Diamond Imports Inc.
Machine Cutting & Setting Technology
Diamond Imports Inc. is a direct jewelry manufacturer offering wholesale prices to jewelry retailers. We specialize in eternity rings wedding rings, engagement rings, earrings, bangle bracelets and much more in 10K, 14K, 18K in white yellow and rose Gold, plus Platinum, and Silver. Our high tech machine cutting and setting technology ensures dazzling quality for affordable prices. Custom orders accepted with no minimum quantity.

Machine Set, Zero Porosity Wedding Bands

Made from Seamless Extruded Tubing
Manufacturing Process
The manufacturing process begins by slicing your ring to a specific width from a precious metal tube that has been compressed for maximum strength and durability. We utilize high-tech cutting and milling machines to create the desired design. Our quality control staff inspect the bands for manufacturing inconsistencies during each step of the process.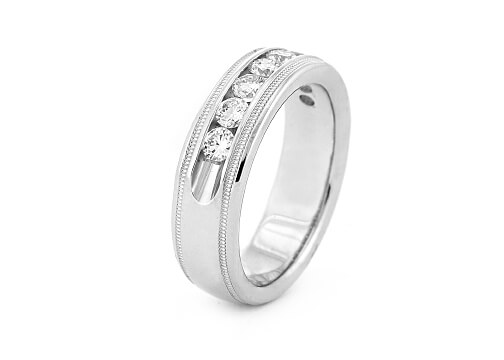 Services We Offer
Machine Cutting/Setting Technology
Watch Bezel Making
Diamond Supplier
Your local NYC contact & supplier
Drop-shipping
Custom Orders
Why Choose Us
Custom Orders – send us the information and a picture of what you want and we will make it.
Fast Turnaround up to 10 business days; our average is 4 – 7 business days.
Drop Shipping – save time and money by having us ship directly to the recipient
Direct Manufacturer – no middleman to deal with.
Immediate Price Quotes – calculate the cost yourself on our website or by giving us a call.
Dropshipping
Save money and time by letting us dropship your orders. Your company's address and branding will be displayed, not ours.
Custom Orders
We accept custom orders of all shapes and sizes. Send us a sample and we'll make you an exact copy with no minimum order quantity.
Precision
Our rings are made from extruded tubing that has been compressed for maximum strength and durability. Unlike casting, this method ensures a high quality finished product that is guaranteed to be porosity free.
Satisfaction Guarantee
We believe in a better customer service and a better product. We stand behind our products by manufacturing our jewelry in-house utilizing machine cutting and setting technology.